An increase in the outflow of cryptocurrencies from exchanges and an increase in net inflows into a stablecoins signal a bullish momentum in the market. Analysts at Bank of America came to this conclusion, writes Decrypt.
Experts noted the "easing of pressure from sellers" with the transition of the initiative to buyers of digital assets. As a result, from June 29 to July 26, market capitalization increased by 11%, reducing the decline rate since the beginning of the year to 56%.
"Limited supply and continuous outflows from exchanges indicate that investors continue to hold positions amid a rally in risk assets," the report says.
Experts pointed to the sustainability of the trend despite the Fed's increase in the critical rate immediately by 0.75%.
Analysts estimated the volume of withdrawn bitcoins from cryptocurrency platforms to cold wallets at ~$508 million and Ethereum at ~$381 million (data are given from July 2 to August 1). The first asset over this period has risen in price by 19%, the second – by 56%.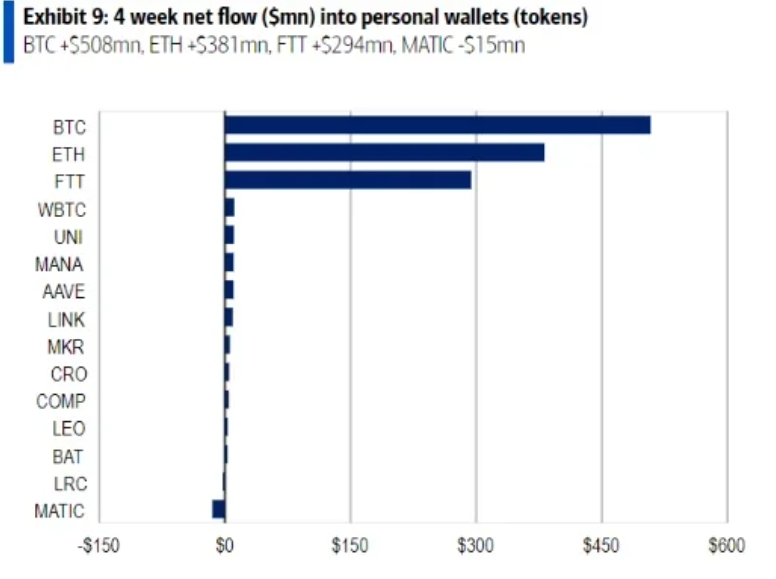 In stablecoins, inflows and outflows alternated. The most notable surge in the withdrawal of funds to non-custodial wallets for $437 million occurred from late June – early July.
"The outflow of "stablecoins" from exchanges to personal wallets occurs when investors seek to maintain the dollar value of their assets. This is often relevant during periods of declining prices for digital assets. When investors want to expand their risk appetite, they usually tend to use stablecoins to buy cryptocurrencies ," the experts explained.